Bath & Body
,
Beauty
,
Body Lotion
,
Body Soap
,
Body Spa/ Massage
,
Cosmetic/ Make up
,
Facial Cleanser
,
Facial Foam/ Cleanser
,
Hair
,
Hair Care
,
Hair Product
,
Hand Cream
,
Holiday Collection
,
Lip Product
,
Lush
,
Mask
,
Moisturiser
,
New Store
,
Oil (Face/ Body)
,
Product Review
,
Skin Care
Lush Malaysia Price & Which Country is Cheapest
October 2, 2018
Being a lush fan I have visited more than 5 lush in different countries because I love them that much and also we don't have it in my country as of Yesterday. But today, out of all day; on my Birthday they finally launched Lush Pavilion KL, Malaysia. I jumped in joy as I saw the news on my fb a month back. One thing that concern most of us is the Lush Malaysia price, if it is affordable for us. Our neighbor, Lush Singapore price is not cheap especially in these recent few years dew to our week Malaysia's currency. Back then when SGD vs MYR is still 2.3 the price were quite good as compared to those in UK.
So, I am actually doubting if to visit the Lush because it's a weekday and Monday always a busy day. Since it's my birthday, I finish work and get off early to checkout Lush Malaysia price. I was quite surprised with the crowd on a Monday, it was packed with man and woman testing product and choosing product to buy.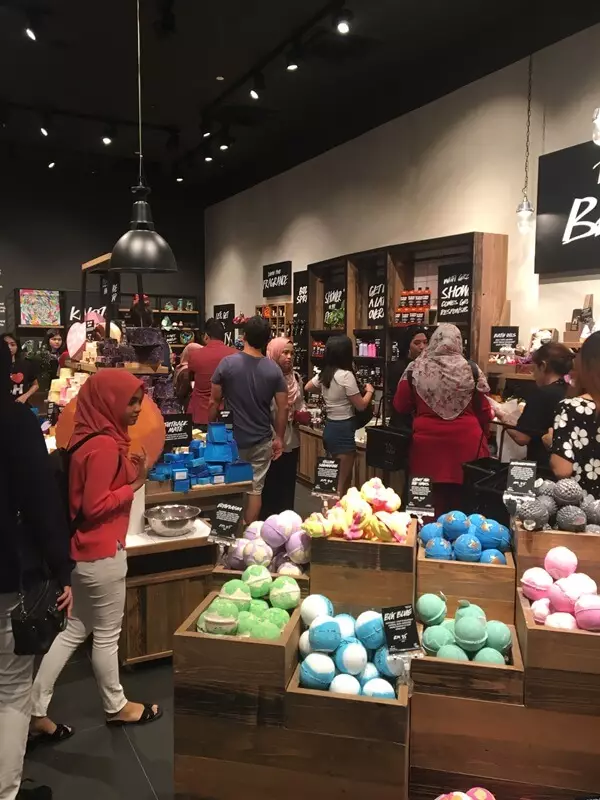 Many of you were asking me about their pricing and the product and which is my favourite. I thought, I'll put all info down for you girls to read on before you visit Lush or even decide if it worth making your way there. Just so you know I love the Pavilion's staff they are so nice and keep checking if you need any help. They also not skim on samples but I did purchase a few bombs and treatment so yeah asking some sample is not too much. They did gave me some samples even before I pick the product to purchase as well. Such a nice girl 🙂 I hope people who's without any intention of buying will not abuse this sample giving gestures.
I will be making pricing comparison between Lush Malaysia Price with UK, France, Japan, Thailand, Singapore & Australia. Well this is just for the sake of comparison for some of you who travel around and wanted to know if you should use your luggage space for these Lush Bath Bombs or just get it when you are back in your country. You asked why I compare only these specific country. The reason was UK is the origin, and France is representing prices in Euros, USA because they also have factories and my fren Nicole asked me to include, Japan is because the store manager told me Lush Malaysia stock were from Japan, Thailand & Singapore because it's near Malaysia and Australia were because many of us do travel to Australia.
If you want to know 5 must buy product from Lush, please scroll all the way down for the list. I shall start by product categories and I'll put pricing comparison for the star product for respective categories. Most Lush Malaysia Pricein MYR will be listed as well. Let's get to it!!
** UK will always be cheapest in my opinion but let's see. All prices are in comparison after conversion to RM (MYR)
BATH BOMBS
This is the legend…. The very first product I fell in love!!! No one does it like LUSH!!! The scent, the coloursss and everyhting is like Magic!!
Sex Bomb Price: £3.95  €5.25  U$7.95 ¥680 ฿275  S$14.50 A$6.95 RM38 
Cheapest: Australia
If you are new to Bath Bombs, they fizzz with colourful milky swirl in your tub of water. Depend on it's ingredient some are very colourful and some very shimmery or milky. These Bath Bomb bring joy in bath tub soaking. They makes pampering at home so much more fun and pretty… These bomb will usually make your skin smell like floral or fruitssss depend the scent you opt and also moisturise your skin!!! I think this is one of the item in Lush that I repeatedly buy and tried almost all the variant except those scent that I don't quite like.
There's many of my favourite bath bomb no longer selling anymore…. Sex Bomb are one of it!!
I have not shop in Lush for a while now and I see they invent alot of new scent and cute shapes too! Some are limited edition and some are Christmas edition like Snow Flakes and Naughty Elf. Bubble Spinner look fun but so pricey!!
Princess Bomb Bomb & Snowman Bomb Bomb is one of most expensive Bomb I ever seen…. Freaking RM 90 each!!! Wow almost one day of salary for some….
BUBBLE BARS
This is my second favourite product to buy from Lush. This is what makes your bath filled with bubbles that covers your entire body for that insta worthy shot LOL. Recently, I buy lesser bubble bars because it's so pricey and shower gel can give same bubble effect. So I use Bath Bomb  + Shower Gel instead, cheaper this way or sometime just choose either one.
Rose Jam Price: £4.75  €6.55  U$8.95 ¥860 ฿325  S$19.50 A$7.95 RM45
Cheapest: Australia 
I don't see any new Bubble Bar, pretty the same. Oooppsss just check on the website and realize the Naughty Elf, Sparkly Pumpkin & SNowflakes are bubble bar not bath bomb ?.
My all time favourite is Comforter. The size make the price worthy. If you love berries scent you will love this… One size can use up to 4 time. There's also another variant with same size call Blue Skies, but the scent not so my kind.
Another favourite is Rose Jam, I lost count how many have I purchase this….. If you love rose this is a must get.
I also love the "A French Kiss" Bubble Bar but for the size it's quite pricey never got to get it…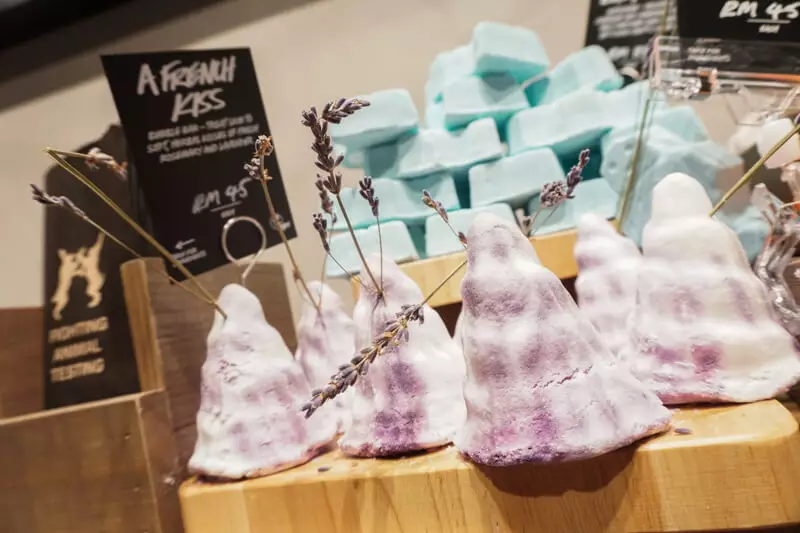 BATH OIL
I also insert bath oil into my bath. It add more moisturizing effect on my skin and my skin feel so soft….. The bath oil ball look so adorable too!! But becareful never put under sun… I melt a couplessss when I put in my car boot….
Razzle Dazzle Price: £2.75  €3.95  U$5.95 ¥420 ฿175  S$N/A A$5.5 RM25
Cheapest: UK
My fav is Razzle Dazzle & Revelation… Shimmer, pretty colour and moisturizing…
SHOWER GELS
So far I only tried rose jam and I really love the scent… but it's only available during Christmas and I don't see any in store today. However, I did find the new Naked Shower Gel are very interesting. It's limited edition and I'm so tempted to buy.
Happy Hippy Shower Gel Price: £5.25  €7.5  U$10.95 ¥1700 ฿350  S$19.0 A$7.95 RM25
Cheapest: Australia 
SOAP
The first thing I notice when I enter Lush store is always these huge blocks of soap…. They always look so colourful and smellll so heavenly…. I have never buy one because I dont use soap for my body but I did get sample and it feel so moisturising to my skin….. May be I will buy one soon?
Lavender Vida Loca Price: £5.7  €5.95  U$7.95 ¥620 ฿N/a  S$14.6 A$6.95 RM45
Cheapest: Australia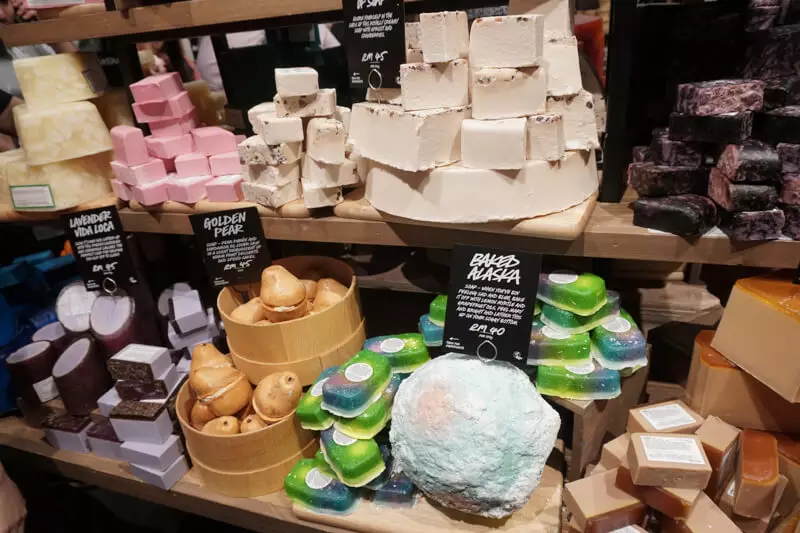 MASSAGE BAR
Oh boy this is another luxury product to splurge but first got to find someone to massage for you! If you don't mind you can do it yourself  for sure. I brought mine to my masseur and let her massage me….ahhhh so good…
Pearl Massage Bar Price: £6.95  €10.95  U$12.95 ¥1320 ฿595  S$25.0 A$13.95 RM 65
Cheapest: UK
BODY LOTION/ CONDITIONER
They also have the naked conditioner which seem interesting and super eco friendly eh? As no plastic is used to make the bottle. I never use their lotion or conditioner because I dislike anything greasy and their lotion always very greasy for me.
Sleepy Body Lotion Price: £8.75  €12.5  U$9.95 ¥1440 ฿595  S$26.0 A$16.5 RM 75
Cheapest: UK
Buck's Fizz RM 85
HAIR CARE
I am the type who splurge on conditioner and treatment for my hair but not for my shampoo….. I tried their famous H'Suan Wen Hua hair treatment before, it's quite moisturising but not like WOW…..I didn't like the scent so I did not repurchase.
Hot Oil Treatment Price: £6.95  €10.5  U$10.95 ¥1260 ฿495  S$21.0 A$12.95 RM55
Cheapest: UK
There some new hot oil treatment which I quite like the scent and seem really fun to use. Just pour hot water onto a tub and swirl the treatment stick until it become thick. After that just apply to the hair ends… I am very excited to try this!!!
I also like to try the solid conditioner in purple smell so good and feel very moisturising too.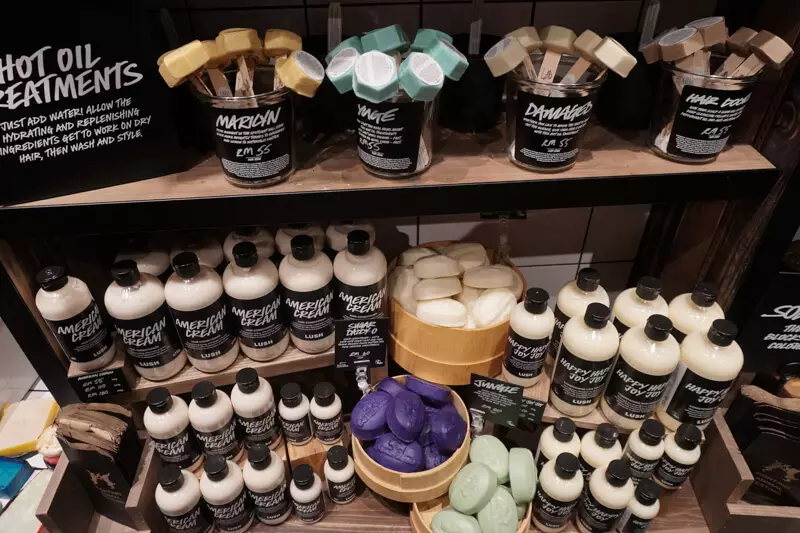 SKIN CARE & COSMETIC
My favourite are their Fresh Face Mask. All off them look like yummy thick yogurt hahahha… When I apply on my face I feel like licking it lol….
Fresh Face Mask (Cupcake) Price: £8.5  €11.5  U$N/A ¥1400 ฿550  S$31.0 A$13.95 RM75
Cheapest: Australia
I did not try any other skincare but I saw that they have Jelly Mask now.. It's slightly more pricey compared to the fresh ones but it can be store longer.
They also have cosmetic but I did not have time to play with it today….
Woooo the moisturiser is so priceyyyy…. Wonder how good are they!
Chrismas is coming near and gift set is available already… I am eyeing on the Rose set!
Overall, I find the pricing in Malaysia is extremely expensive, though not the most expensive ones. Singapore top the chart most probably because of their strong currency rate against MYR. I was shocked to see Australia has the cheapest price for some product. May be AUD rate is better than pound. I am so gonna shop in Lush AU.
MY TOP 5 MUST BY LUSH PRODUCT
SEX BOMB

ROSE JAM BUBBLE BAR

RAZZLE DAZZLE BATH OIL

CUPCAKE FRESH FACE MASK (OTHER ARE GOOD TOO)

PEARL MASSAGE BAR
Phewwwwww this is a long post…and I never expect I took so long to draft this post…. I hope these information is helpful for you girllssss… At least, burning midnight oil completing this post is worth it eh? Happy Lush Shopping!!
You May Also Like
May 8, 2018
August 18, 2019