The Brew House @ Sunway Giza
March 5, 2018
Are you fan of good food and good drink? Brewhouse will be your choice for a good meal (with pork too) and drinks. They have almost all sort of drinks and meal that will sure fit your taste-bud. So if you are looking for a place for gathering or meet up this is the place to go! Are you ready to get drooling as I share with you vast choices of porky meal to pasta, pizza, salad and desserts all prepared with an Asian twist?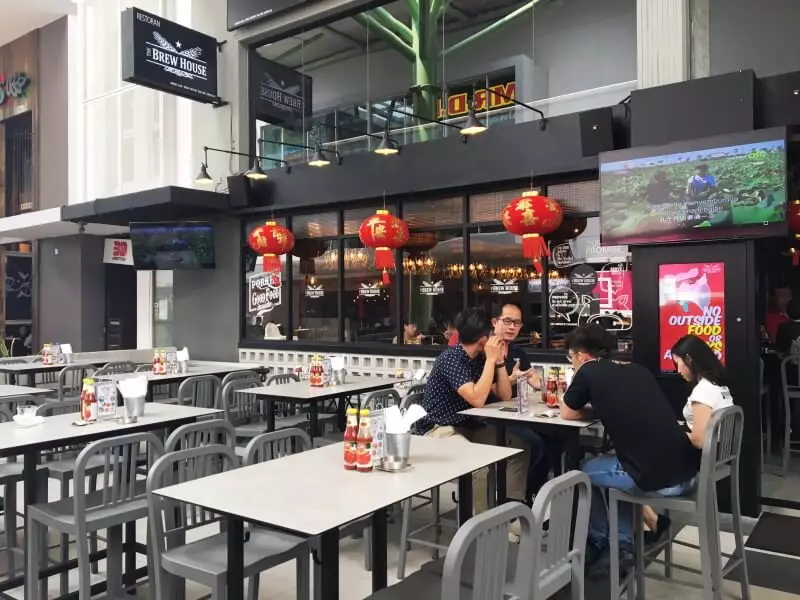 Let's start with this appetizer Pork Gyoza! It's easily everyone favourite and I order this everytime I see it in menu.  The soft skin filled with juicy minced pork meat mixture that makes every bite so fulfillingly juicy. Instead of the usual vinegar dressing this come with Sesame Thai Dressing sauce, a nice twist.
Moo Ping a pork skewer made from pork neck skew to perfection that comes along with thai dipping sauce,
The Ultimate Buffalo Fries is a must order to go with your beer! Filled with generous amount of pork floss and Thai basil minced pork and a pour over of cheese sauce. How sinfully delicious!
Want to have all in one? This Porky Platter will kick it off!  Slider (luncheon meat) wrapped under soft bun, crispy roast pork and sticky pork ribs all in one platter. The sticky pork ribs is very flavourful, got me finger licking! The roast pork here does not taste like the conventional roast pork you have in Chinese Restaurant as this using cajun spice instead of famous five spices!
Soft Shell Crab with young papaya salad in tangy Thai dressing, a refreshing dish!
Oh this next one, Lala Noodle Soup giving the right kick of Shao Sing wine and Cili Padi!! The bowl is filled with generous amount Lala! Oh how delicious!
Nasi lemak with Roasted Pork, the name alone SOLD! The aromatic santan rice with sweet and spicy sambal and crispy roast pork, who would say no?
Truffles lovers hands up! This fried rice is filled with Truffle and seafood, fancy enough? Well couldn't taste much of the truffle though.
Bacon Steak according to chef is their favourite! True to his recomendation, the thick steak is so juicy and flavourful! The sides accompanying compliment it very well too.
Pork Bacon & Peach Pizza is another unique twist! Made from their specially crafted bacon super heavenly!
How about some pork burger? This thick Brewhouse Pork Burger patties taste really good! Comes with apple slwa, grilled peach, fries and cherry tomatoes.
I were addicted to this Salted Egg Fish skin with Pork Floss. I can't stop taking it more and more, a good snack to go with beer!
The Nyonya Laksa soup taste really great with addition of the roast pork it just make it up to a whole new level of yumminess!!
The last one,  Bacon Wrapped Pork Meat Ball totally surprised me. I couldn't tell what was it at first. A bite and my palate is burst with flavours of pork and the accompany stout sauce is addictive. I would order this with a bowl of rice.
Phewwww… I got hungry drafting this review… and believe it or not this is only 50% of the entire menu!! So do check them out if you looking for a restaurant for everyone. If you are Pork Lover do head over too….It's filled with Pork goodness!
The Brew House, Sunway Giza,
Unit C-03 & C-03A,
Block C, Sunway Giza,
No. 2 Jalan PJU 5/14, PJU 5,
Kota Damansara,
47810 PJ, Malaysia
You May Also Like
December 12, 2016
July 19, 2017
April 25, 2016