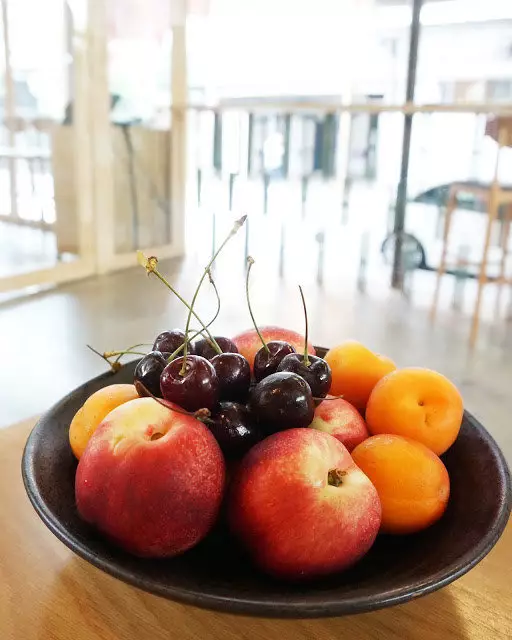 Australian Cherries and Summer Stone Fruits is coming to town
February 15, 2017
Cherries and summer stone fruits such as plums, nectarines, apricots and peaches are available from now until March. Table grapes will be available from March to May, and citrus fruits such as oranges are available from August to October. Australian vegetables are available throughout the year due to Australia wide production.
Do you know these summer fruits can also be incorporated into making dessert and savoury food? I was at Breakfast Thieves the other day to learn a few recipes incorporation these summer fruits….
Chef Brandon Chin sharing some cooking tips!
So here is what we have on the menu!
on brioche with poached nectarine, Australian ebiko, herbed mascarpone & pickled cucumber
THYME CONFIT CHERRY & VICTORIAN FETA
served on puff pastry with Australian avocado mousse, sweet corn & pickled cucumber salsa
COCONUT CHIA PUDDING WITH APRICOTS & CHERRIES
served with shaved gula melaka, poached nectarine, cherry compote & granola
AUSTRALIAN LAMB RISSOLES + PEACHES
in mini brioche bun with charred peach & caramelized onions, lettuce & cucumber-mint raita
CHERRY & DARK CHOCOLATE
red cherry compote covered with dark chocolate ganache mini tart sprinkled with Victorian Murray River pink salt
If you want to learn how to cook some of the above dishes, you can refer to the recipe on their
FB page
.
and here is also a simple guide on how to take care of these fruits!!
Alrigh, I shall end this post here…. See you soon in upcoming post!
You May Also Like
May 8, 2018
March 22, 2018
August 22, 2016